Internet work
The following web sites represent a recent collection of the client work we have completed. As time passes some web sites evolve, change or close down. We have linked only to sites that are currently active.
Many of the sites listed below were designed by our sister company, Oyster Strategic Design and showcase the best of our web development and their web design.
Demolition 1
The brief
Create an initial holding page for this specialist demolition company operating the the south pacific region.
The final solution had to be search engine "friendly" to get useful search engine results whilst they plan the next phase of their web site.
---
Go Smooth Beauty
The brief
Create a point-of-presence on the web for a new company offering non-surgical beauty treatments. A web template was to be modified and used to display the content - which was written to be informative as well as to promote the services of the company.
The final solution had to be search engine "friendly" as well as maintaining a consistent look-and-feel across a wide range of web browsers.
We delivered on time, and within budget for the launch of their company in September 2007.
---
Mahoenui Lodge
The brief
To create a single "point of presence" page that was optimised for accessibility, was light-weight in data and easy for search engines to index. We achieved these goals through careful use of HTML elements and CSS to reduce the page weight, and ensured the layout was presentable to screen readers as well as search engine index scripts.
The initial presence page layout needed to accommodate future development and so had to able to become a template with minimal change.
We delivered on time, and within budget for this small business.
---
Elitist Review
The brief
To create a simple entry page that links three popular blogs managed at Elitist Review. The entry page needed to be light-weight and appropriate for search engines as well as looking the part.
We delivered a simple solution that didn't rely on javascript being enabled and managed to provide the right look and feel for this entry page. The user journey from the entry page to the different linked blogs is seamless and provides a simple way to traverse the content available.
---
Liquid Niugini Gas
The brief
To create an online presence for this company as they prepared for a major marketing campaign. A simple contact form along with customised web pages were built along with a CMS that allowed immediate access to update all parts of the web site.
The company
Liquid Niugini Gas aims to pioneer production of LNG in Papua New Guinea by building and operating a gas processing facility delivering LNG and on-shore NGL processing. Having a web presence that didn't demand a constant technical presence was key.
---
Symphony Corp
The brief
To redevelop their web site to centre around a blog and have an easy to use CMS. We built their redesign as a WordPress Theme, and implemented the Coedit CMS as a WordPress Plugin so that their web site would benefit from the rich features of WordPress Blog and be easy to upgrade in the future.
The company
Symphony specialise in creating financial value for their clients. With ready investment funds and proven financial management expertise, the team at Symphony is wholly focused on building and realising value in private companies.
---
Oyster Strategic Design
The brief
To update the existing Oyster site to be accessible, add a CMS to allow fast update of the web site content, and become more consistent with the Oyster group branding.
The company
While we occasionally work on design in-house, most of our design services are provided through our sister company, Oyster Strategic Design – a company based in Melbourne whose staff we have known for over a decade. As well as web design, their services include graphic design, artwork production, digital photography, and strategic planning.
---
Toner Action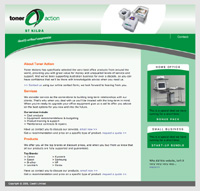 The brief
We were asked to come up with a quick-to-market website that would start off as a small web presence, but allow fast expansion in the future.
The integration of the Coedit CMS with this clean web page design was all that was needed to deliver a working solution within days to this client. Now they have all the control they need for day-to-day website maintenance without the confusion of traditional web publishing methods.
---
Flash Slider, Financial Times (US)
The brief
To create a Flash-based slider module that allowed users to narrow down search results based upon a visual representation of their search results over time.
The module had to provide a standard HTML-based form for those users without a Flash plug-in.
---
Coedit Limited
The brief
To update our existing website with a new design consistent with the Oyster group branding, add a flexible CMS, and provide us with an exciting new tool to showcase our services, work, and products.
We wanted to place particular emphasis on the accessibility aspect of this redevelopment - and to present an environment where we could show off the Coedit CMS and allow others to see how it all fits together.
The company
Coedit Limited is a web-centric consultancy delivering standards compliant, accessible web solutions to clients in the United Kingdom, France, United States, Australia and New Zealand.
---
Healthsource
The brief
To create an accessible and secure shopping site for this New Zealand health supplement supplier, along with a CMS to allow them to fully edit and manage their own content.
The company
Healthsource is an online resource designed to help people understand key health issues that impact on the lives of many people. It provides information allowing people make informed decisions that may be life changing over time. A range of health and nutrient products, designed to help address these issues are available to order using the secure ordering system.
---
Landscape Transformations
The brief
To provide a "picture-book" website for a New Zealand landscaping company, allowing them to showcase their work, and giving potential clients a better idea of what can be achieved through landscaping.
The company
Landscape Transformations are a one-stop landscape shop, providing everything needed for a landscaping job from design through to construction and maintenance. The team includes qualified and experienced architects, designers, project managers, skilled construction workers, and a specialised garden care team.
---
Evofleet
The brief
To create a 5-page website with CMS to support an email advertising campaign, provide a single access point for company communication with clients. As well as controlling the site content, the CMS needed to manage subscription information.
The company
Evofleet launched themselves onto the Australian market with an email campaign to a small number of commercial truck fleet owners. They sell a product allowing the owners to cut their fuel bill by up to 30%, using a revolutionary new technology – EVODRIVE™.
EVODRIVE provides efficient fuel burning and significant environmental benefits, including up to 93% reduction in carbon monoxide emissions, up to 133% increase in oxygen emissions, up to 59% reduction in hydrocarbons, and a noticeable increase in vehicle power.
---
Domaine Dujac
The brief
To create a multi-lingual website for a French vineyard, with a CMS to update the content of every page, as well as managing wine lists and news articles.
The company
Domaine Dujac was founded by Jacques Seysses in 1967. Sharing his father's passion for good food and fine wines, and motivated by the desire to improve his knowledge of winemaking, Jacques graduated with a diploma in oenology in 1978. Blending what he admired in traditional winemaking with modern techniques, he went on to refine a style of his own – a style that would put his wines on the menus of prestigious restaurants throughout Europe, and see them exported to 18 countries.
---
Adair Integrated
The brief
To build a website with an accompanying HTML email newsletter in the same style. The newsletter would have monthly updates, tied in with a news archive on the website.
The company
Adair are an Australian company who work with brand marketers, providing them with retailer specific marketing, retail marketing solutions, and managing retailer programs. Their teams are made up of a combination of in-house marketing professionals and outsourced specialists, enabling them to provide clients with the quick response of a small business and the broad base of expertise you'd expect from a much larger organisation.
---
Hetherington Veal
The brief
To redevelop the internet presence of this UK based design agency, based on their design. The site needed to be cross-browser and cross-platform compatible without losing functionality.
The company
Hetherington Veal is a wholly independent design consultancy based in London. Their work encompasses a wide range of design disciplines, from annual reports, brochures and packaging to web, internet and e-commerce solutions.
---
Domaine de Triennes
The brief
To create a multi-lingual website for a French vineyard, along with a CMS. The site needed the ability to display database-driven news articles and wine reviews, managed by the custom-written CMS.
The company
In the late 1980's Jacques Seysses, founder of Domaine Dujac, and Aubert de Villaine, co-owner of Domaine de la Romanée-Conti, and Michel Macauxk started looking for a vineyard in the south of France.
Driven by the conviction that some great wines could be produced in the Var, an area typically known for its rosés and thin table wines, the three friends were attracted to Domaine du Logis-de-Nans, an existing estate in Provence, by its southern exposure and the clay and limestone rich soils.
The estate was renamed Domaine de Triennes, after the triennia, festivities in the honour of Bacchus that took place every 3 years in Roman times.
---
Montez Produce
The brief
Montez needed a small website to kick-start their presence on the internet.
The company
Montez International are a New Zealand company established in 1991 who specialise in exports to the Middle East, Indian Ocean, Russian, Far East, Europe and South East Asia regions. Their primary exports from New Zealand are apples, onions, and carrots, and from China, Fuji apples, garlic and ginger.
---